5 Best Cat Houses---the Ultimate Buying Guide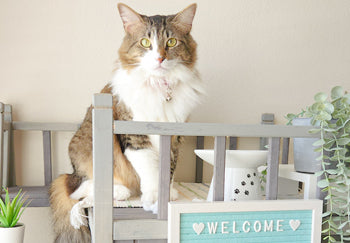 Introduction
Do you have a fluffy kitten in your house? Or about to have one? Or want to provide a shelter for stray cats? If the answer is yes, then it is important to understand the importance of cat house.

Cats need a space of their own. No matter what environment you live in, you need to keep them warm and safe. At this time, a large cat house is particularly important. And if you have just brought your cat home, you need to cultivate a good habit of cats. Indoor cat house is an important tool for cultivating good habits for cats.

To help you find the best indoor and outdoor cat houses, we have compiled 6 cat houses that are perfect for your cat.

5 Best Cat Houses
Aivituvin Large Outdoor Cat House    AIR14
The two-story design allows cats to explore freely upstairs and downstairs. And there is an internal ramp inside, so you are not afraid of cats falling. The oversized side door makes it easy for you to catch your cat.

This wooden cat house is very easy to assemble. You only need to prepare a screwdriver. The top of the cat house can be opened for easy cleaning. Moreover, it has 4 casters. Easy to move freely. When the weather is fine, you can put it in the yard to enjoy the sun. This cat hutch is very suitable for indoor and outdoor use.
PROS:
Waterproof asphalt roof.
Opening roof and bottom side door for easy cleaning.
This middle floor can slide out for easy cleaning.
Four casters for easy moving.
Suitable for indoor and outdoor use.

CONS:
The door may be too small for big cats.
Aivituvin Outdoor Cat Catio    AIR22
The large cat catio provides a spacious play space for your feline friends. The outside cat house has 3 platforms and a small lounge inside, bringing more fun for your pets. It is a nice way to give our indoor cats fresh air and you don't have to worry about them.

The size of the cat house is very suitable and can accommodate 2-3 cats and other small pets. The waterproof asphalt roof is vital for outdoor and indoor use. Moreover, the large outdoor cat house has a removable bottom PVC layer, which is easy to clean. The upgraded version of reinforced wood strips makes this wooden cat house more durable.
PROS:
Waterproof asphalt roof.
Cat enclosure with four wheels for easily move.
Bottom PVC layer for easy cleaning.
You can combine two sets to make a larger one.
Install the upper part on the reverse side to connect the window.
Two large front access doors for easily cleaning and catching your pets.

CONS:
The door may be too small for big cats.
Aivituvin Outdoor and Indoor Cat House    AIR33
When your kitten wants to try to play outdoors, it is best to provide them with a warm and safe space. And it is perfect for feral cats to be safe from the weather.This outdoor and indoor cat house has a large balcony where your kitten can enjoy the sun. When it is used outdoors, the PVC door curtain and asphalt roof play a role of rain and wind protection. Keep the cat house warm.

This wooden large cat house has 2 front doors and 2 jumping platforms, providing interesting entrances and exits for cats. The 2-story cat house provides ample space for activities. With pre-drilled holes, this cat house suitable for outdoor cats is easy to assemble.

PROS:
Weather- resistant asphalt roof for outdoor use.
Opening roof for easy cleaning.
Give your cats a large space to rest and play.
The door flaps protect your feline from the lousy weather when placing the cage outdoors.
The large open decked viewing platform is suitable for pets keeping an eye on their surroundings within comfort.

CONS:
The door may be too small for big cats.
Aivituvin Extra Large Outdoor Cat Enclosure    AIR37
If you have plenty of outdoor space and want your cat to have a luxurious experience, the advanced walk in cat enclosure is your best choice. And there are some nice details and additional features. It is made of solid fir wood and will take some time to assemble when received.

This large outdoor cat enclosure is ergonomic. Because it hardly needs to bend over to play with your feline friends. It has a large space for your cat to climb and jump. The surface is coated with environmentally friendly waterproof natural paint. The roof is covered with weatherproof asphalt.

Some wooden strips are added to the internal structure to form a stable frame. This is a great way for our indoor cats to experience outdoor activities.

PROS:
67" tall access door to allow you get into enclosure easily.
Two resting rooms.
It can be used as a window cat enclosure by taking off the back panel.
Waterproof asphalt roof to keep the enclosure dry.

CONS:
It needs at least 2 people to assemble it because the size is large.
Aivituvin Wooden Outdoor Cat House    AIR09-B
This is the best choice for your cat to enjoy the sun and view the scenery. This waterproof cat house has an extended small roof. Very suitable for indoor and outdoor use. This outdoor cat house is cozy for feral cats to rest peacefully and be out of the elements.

The wooden cat house is 100% solid fir wood with water-based paint. So it is very friendly to your pets and family. The lounge and side stairs provide comfortable gaming and sleeping spaces.

PROS:
Weather-resistant asphalt roof for outdoor use.
Perfect for indoor and outdoor use.

CONS:
The door may be too small for big cats.
Cat House Buyer Guide
Now that you have enough knowledge about the best cat houses, you can easily have the urge to buy. But you cannot be sure which one is best for you. Below is a buying guide for you.

Security
The first point of any pet cage is to ensure safety. If they are left in panic for a long time, it is not conducive to their physical and mental health. And not only to prevent the threat of wild animals, but also the safety of the cage itself. The structure of the cat house must be stable enough. Because cats are easy to move to a large extent, the cat house should be enough to support the cat's movement.

Size
Generally, the common sizes of cat hutch are 60-80 cm. Cats are animals that like to curl up, and their limbs are relatively soft. Therefore, if you raise 1-2 cats daily, there is no problem with cat hutch of 60-80 cm. If there is often no one at home during the day, the cat should stay in the cat house. Of course, if the size of your room allows, a large cat house is also possible. Giving cats enough space is conducive to their physical and mental health.

Material
Iron Cat Cage:
PROS:
Durable
Good air permeability
Affordable

CONS:
It is not completely enclosed, urine may get outside the cage.
Cat litter and food debris will fall out in the cracks.
If you want to put cushions in the cage, you must use breathable materials.

Wooden Cat House:
PROS:
Beautiful
Various shapes
Fully enclosed will make the cage cleaner.

CONS:
Some may not be ventilated.

Ventilation
No matter what pet you keep, there will be a smell in the cage. The function of ventilation is to ensure the air circulation in the cat house and keep the inside dry and hygienic. Insufficient ventilation can cause your cat to get sick. Especially if there is more than one cat in your cat house.

Keep Warm
Cats are animals that like to be warm. How can it not be warm as a place for cats to rest and sleep? If you want to buy an outdoor cat house, it is best to choose an insulated one.

The Benefits Of Owning A Cat House
Improve Adaptability
If you have just brought your cat into the house, your cat needs a transition period. At this time, I suggest keeping the cat in a cat house. Because cats are prone to stress when they first arrive at home, they need at least seven days to adapt.

Avoid Estrus
Many cat owners do not want to sterilize their cats. Male cats will pee frequently, and female cats will bark all day long. This will greatly affect your mood. Your floor, wallpaper will suffer. At this time, a cat house is particularly important.

Avoid Fighting
This is mainly for when there is more than one pet in the house. Or often there are friends' cats that need to be kept in your house.


Final Thoughts
The best cat house provides a safe and comfortable environment for your cat. You have many choices. Including single-story cat house and double-story cat house, outdoor cat house and indoor cat house.

Aivituvin's cat house is warm and comfortable, while sturdy and durable. You can't go wrong with any of them, and each can become your cat's favorite new home. Choosing Aivituvin is to choose a warm home for your cat.
---
1 comment
---
---