4 Best Outdoor Rabbit Hutches ---The Ultimate Buying Guide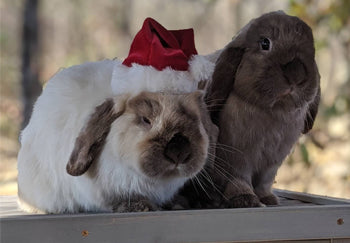 Abstract
If the weather permits where you live, you must want to keep rabbits outdoors. Because there is enough space outside for the little rabbit to move and fresh air. A comfortable large outdoor rabbit hutch is more than just a place for rabbits to eat and sleep. This is their home, where they can find a safe place away from the threats of the outside world. 

You may have thought of DIY an outdoor rabbit hutch. But in most cases, ordering an outdoor rabbit cage online is easier, cheaper and more convenient than building one yourself. Before you buy, there are definitely many factors to consider. Don't worry, we will introduce this part in detail later in the article. Before starting this part, let's take a look at the 4 best outdoor rabbit hutches!

4 Best Outdoor Rabbit Hutches
Aivituvin Indoor and Outdoor Rabbit Hutch--AIR10
Aivituvin is the best outdoor rabbit hutches available. It is sturdy and ventilated to keep your pet rabbit happy and safe and pleasant.

This is an indoor and outdoor rabbit cage. The bunnies have plenty of room to move around in the outdoor rabbit hutch. You can also separate the upper and lower areas with sliding doors.

The bottom area of the wooden outdoor rabbit hutch provides enough space for rabbits to move. The roof can be opened to make it easier for your rabbit to breathe fresh air. Additional sliding doors can separate the upper and lower areas. Most importantly, the outdoor rabbit cage has four movable wheels at the bottom. When it is cold outside, you can move the rabbit cage indoors at any time.

There is a removable wire mesh above the bottom tray of the outdoor rabbit hutch. When you pull out the tray for cleaning, the rabbit won't interfere with anything. Don't worry when it's hot outside. The cage has a sun screen to prevent your little rabbit from being exposed to the sun.
Inner Space: 8.3ft² (Click for details AIR10)

Pros:
Suitable size for 1-2 bunny indoor or outdoor
The deeper plastic tray is available to clean
Wire netting above the tray for effortless cleaning
Roof with waterproof asphalt & UV resistant panel
4 movable wheels
The roof can be opened for easy cleaning
Amazon's No. 1 seller

Cons:
The ramp may be a bit steep for some small rabbits

Aivituvin Large Outdoor Rabbit Hutch--XZ7001
For better outdoor use, this large outdoor rabbit hutch uses a reinforced structure. Its unique design is that it has a non slip staircase for rabbits to play in the cage. This best rabbit hutch has an openable roof and plastic tray for easy cleaning.

Because there are two door guards in front of the cage, it makes it easier for you to touch your rabbit. The wheels at the bottom make it easier for you to move this outdoor rabbit hutch.

The large bottom area gives the rabbit enough space, and the top room provides privacy and relaxation. Rabbits don't take up too much space when they nest indoors. Waterproof roof is very suitable for outdoor rabbit cage.
Inner Space: 8.3ft² (Click for details XZ7001)

Pros:
Suitable size for 1-2 bunnies indoor or outdoor use
Diagonal wood supports on all panels to reinforce the construction and last longer service time
The bottom area gives the rabbit plenty of space to zoom around, the top gives privacy to relax
Openable roof for easy cleaning

Cons:
No Wire Mesh on the Tray The ramp may be a bit steep for some small rabbits

Aivituvin 2 Story Outdoor Rabbit Hutch on Wheels--AIR06-C
Maybe you have more than one rabbit in your family. If the answer is yes, then this 2 story outdoor rabbit house is your best choice. This outdoor rabbit cage is spacious, independent and free from weight restrictions. It can let your rabbit play happily and freely in its own space.

The outdoor rabbit house has four durable wheels that can easily move the cage from one place to another! The two wheels are brake casters to protect the rabbit. The five doors of this rabbit nest can help you catch furry friends and clean your room effectively.
Inner Space: 8.32 ft² (Click for details AIR06-C)

Pros:
Suitable size for 1-2 bunnies indoor or outdoor use
The dividers of the second floor can be removed to expand the space
An asphalt roof can be opened for easy cleaning
5 access doors makes it easier to see your rabbit

Cons:
Can't become two separate layers, there is no block board between the two sections

Aivituvin Two Story Outdoor Rabbit Hutch--AIR02
The large rabbit hutch with pitch roof prevents your baby rabbit from being exposed to strong light and can run outdoors even on rainy days. The anti-predator spring latch keeps your rabbit safe.

The first floor allows your rabbits to enjoy their play space and it's great for chewing on grass and sun bathing while being able to hide away from the elements, while the second floor provides your rabbits with the nap they need. We are pretty sure that your rabbit will like to climb up and down the stairs!

In addition, this two story outside rabbit hutch has two detachable side door designs, you can easily combine the second rabbit cage to get larger one. Three lockable front doors provide a complete view of rabbit activity.
Inner Space 10.4 ft² (Click for details AIR02)

Pros:
Suitable size for 1-2 bunnies outdoor use
Allows two sets combination
The bottom is empty, and is very suitable for rabbits chewing on grass and sun bathing
Non-slip ramp

Cons:
No bottom drawer, not suitable for indoor use because inconvenient to clean
The roof cannot be opened

Outdoor Rabbit Hutches Buying Guide
Reading here, we have learned about the 4 best outdoor rabbit hutches. So, next, we need to consider what you need to pay attention to when buying outdoor bunny hutch for your beloved rabbit.

Durability

Special emphasis should be placed on the outside rabbit hutches here. Putting a rabbit cage outdoors is bound to experience wind and sun and all kinds of weather, including heavy rain. The outdoor rabbit hutch must be able to withstand all kinds of weather without damage. It is best to choose an insulated rabbit hutch in winter.


Safety

Make sure that the material of your best outdoor rabbit hutch is harmless, whether it is for pets or family members. Many manufacturers may not consider whether the materials used in their products are suitable for rabbits. Aivituvin's outdoor rabbit cages are made of fir wood and are completely harmless. Secondly, for the two story rabbit hutch, consider the safety of the stairs and whether it is non-slip, otherwise the rabbit will easily fall off. Moreover, it is easier for rabbits to be hurt by predators when they are placed outdoors. So don't let other animals enter the rabbit cage, and don't let the rabbit run out easily. This is very important.

Size

Generally speaking, as long as you want to keep the rabbit cage outside or in your backyard, then your outdoor space must be sufficient. Then an extra large outdoor rabbit hutch is very necessary for people with enough space. Little bunnies need enough space for them to play while they need warmth. You must not want to bind them. Of course, if your budget is not enough, then a normal large outdoor rabbit hutch is also sufficient for rabbit activities.

Warmth

Rabbits are very cold animals. Especially pet rabbits, they don't have a strong ability to survive like wild rabbits. Your pet rabbit can easily freeze to death outside if the warm work is not ready. The most suitable temperature for rabbits is about 15 degrees to 25 degrees. They are not suitable for living in an environment where the temperature is too low. So if you have the conditions, you can choose to buy an outdoor insulated rabbit hutch. This way you don't have to worry about them freezing in the cold winter.

Final Thoughts
Rabbits need to be dry, clean, ventilated, safe, well located and relatively spacious cages in order to grow healthily. The modern outdoor rabbit hutch has multi-storey space and multiple rooms, which is very suitable for pet rabbits.

Finding the right outside rabbit hutch for your bunny is easy, and Aivituvin has given you the perfect answer. The outdoor rabbit hutch provided by Aivituvin provides a comfortable and warm home for your little pet. The above four best outdoor rabbit hutches will be your best choice.
---