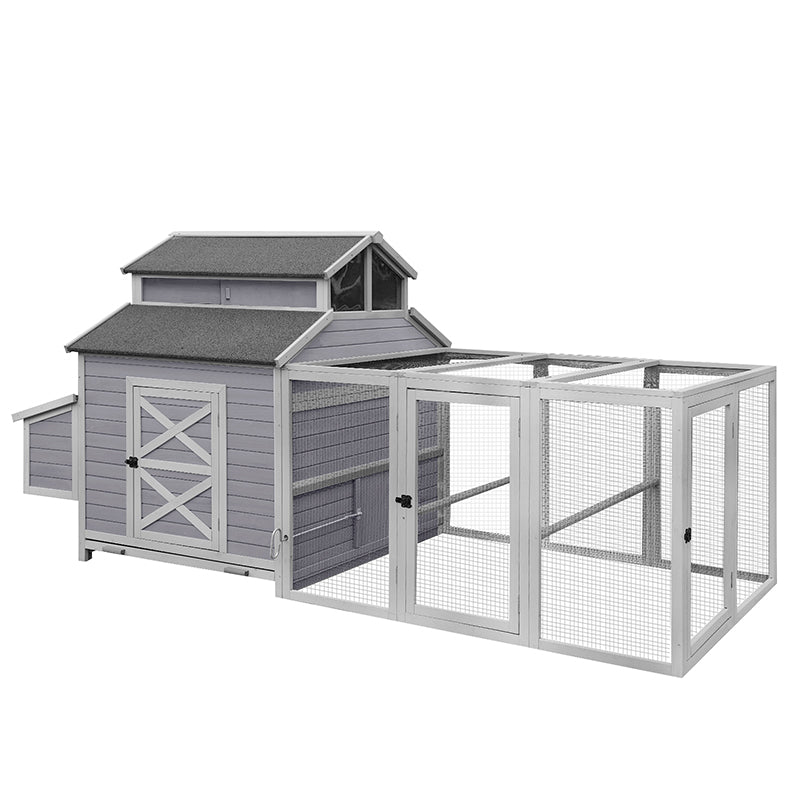 Aivituvin-AIR49 Big Duck Coop | Extra Large Chicken Coop for 4-6 Ducks,Chickens
Chicken Coop Promotion:$50 Automatic Discount at Checkout
2023 Halloween Promotion:Oct.01 to Oct.310

#chickencoop
UPGRADE-Aivituvin Unique Design-1, There is a waterproof PVC cover across the nesting box roof edge to prevent water from getting into the box. And upgrade secure latch to lock the nesting box so the predators cannot open it. 2, During the night, secure the tray with an extra latch to prevent predators from attacking your chickens.

Stable Construction-The large chicken coop is constructed with solid fir wood ➕ animal-friendly paint ➕ heavy-duty galvanized predator-proof welded wire (wire openings are only 1/2"x 1/2") ➕ robust quality hardware to prevent predators.

Spacious Room-This chicken duck coop is the perfect home for 4-6 standard-sized hens, ducks, and any other small poultry. It gives your feathered friends a large and protected space to move around and enjoy happy, healthy lives in and out of the coop.

Waterproof Design-The slant roof of the sleeping area and nesting box is wholly covered with weatherproof asphalt, which prevents water from running into the nesting box and house.

Easy Cleaning-The extra large chicken coop has two full pull-out mess metal pans. And the hinged nesting box lid for easy cleanup and catching.

Large Laying Box- Off-Ground egg box divided into three parts keeps eggs clean, and opening roof allows easy collection.

Unique Design Perch-2 inside and 2 in the outdoor yard round edge roosting bars give your chickens plenty of space to sleep on.
#BottomExtensionWireMesh
Protect your beloved chickens from predators with this durable and easy-to-install Bottom Extension Wire Mesh for your chicken coop. Made from high-quality materials, this wire mesh is designed to keep predators like raccoons, foxes, and coyotes out of your coop, while still allowing your chickens to roam freely.
Easy to install: Simply attach the wire mesh to the bottom of your existing chicken coop using provided brackets and ties.

Durable and long-lasting: Made from high-quality materials, this wire mesh is built to last and withstand the elements.

Provides added protection: By extending the wire mesh to the bottom of your coop, you can keep predators from digging underneath and gaining access to your chickens.
#chickencoop
Material:100% Fir Wood

Package Includes:
1x Wooden Hutch
1x Instruction
This extra large chicken coop is idea for 4-6 standard size hens
#BottomExtensionWireMesh
Package includes: 10pcs bottome extension wire mesh, 20 Brackets and 40 ties
#chickencoop
Chicken Coop

Overall Dimensions:115.2" (L) x 50"(W) x56"(H)
Hutch Dimensions:53.5"

(L) x 50"(W) x 56"(H)




Chicken Run Dimensions: 60"(L) x 50" (W) x 35" (H)

Shipping Weight: 172 pounds
Note:this product is FOUR boxes package
#BottomExtensionWireMesh
Dimensions: 31.49"Lx12.99"W/pc

Weight: 11.47lbs
#chickencoop
3 Large Nesting Box

PVC coveAr prevent rainning & Secure latch keep predators out

Safety Comes First

Metal handle for easy open/close the door. During the night, secure the tray with an extra latch to prevent predators from attacking your chickens.

Weather-Proof

Asphalt roof & solid rain-resistant fir wood makes coop resilient and durable for outdoor use.


#bottomextensionwiremesh
#chickencoop
It was super easy to put together. We recommend 2 people and 45 minutes.And you just need to prepare screwdriver.
All of our chicken cages will come flat packed – It came with a sufficient pictorial manual. Screws were in marked plastic bags. Panels are stamped and come ready to be screwed together. Many have dowel rods that fit nicely into pre-drilled holes.
#BottomExtensionWireMesh
Using U brakets and ties which comes in package, you just need 5 minutes.
We ship from 8 warehouses across the U.S.

Express Delivery : Ships in 1 to 2 working days. Delivered in 3-5 working days.

Deliveries are typically made Monday to Friday between 8.00 am - 6.30 pm.

Working days are: Monday to Friday (and don't include public holidays or weekends).

We do not ship the orders on weekends or holidays. Some delivery delays can occasionally occur.
Questions:
Is the wire actually wire or a plastic mesh?
Answer: This big chicken coop is galvanised wire mesh,strong enough for chickens. And it can also protect the hens away from predators. Great product!
Customer Photos
Related products
 

AIR27

 AIR45

AIR48

 AIR49

Inner Space (Total)
Nesting Box Area--2.79ft²
Upper Sleeping Area--4.93ft²
Ground Activity Area--15.31 ft²
Sleeping Area -- 10.3ft²
Ground Activity Area -- 21.8 ft²
Upper Sleeping Area -- 9ft²
Ground Activity Area -- 21.5 ft² 

Nesting Box Area -- 4.2ft²

Sleeping Area -- 14.3ft²

Ground Activity Area -- 21 ft² 

Sleeping Area--16.58ft²
Ground Activity Area--38.54 ft²
Capacity (suggested only)
2-4 Chickens/Small Poultry

4-6 Chickens/Small Poultry

6-8 Chickens/Small Poultry

4-6 Chickens/Small Poultry

8-10 Chickens/Small Poultry

Quantity of Nesting Box
1

2

2
1
2
Product Net Weight

85lbs

91lbs

153 lbs

158lbs

226lbs
Overall Dimension
81" L x 33.5" W x 46.6" H

103"(L) x 67"(W) x 28"(H)

75.7"(L) x 62.5"(W) x59.1"(H)

115.2" (L) x 50"  (W) x56"(H)

134.5"(L) x59"(W) x62.4"(H)
 AIR32

AIR66
AIR31
Inner Space (Total)
Nesting Box Area -- 1.79ft²
Upper Sleeping Area -- 3.52ft²
Ground Activity Area -- 9.39 ft²
Upper Sleeping Area-- 3.5 ft² 
Down Playing Area -- 6.9 ft² 

Nesting Box Area -- 1.7 ft²




Upper Sleeping Area -- 3.4 ft²




Ground Activity Area -- 9.9 ft²

Upper -- 14.2 ft²
Lower -- 9.2 ft²

Nesting Box Area -- 2.1ft²




Upper Sleeping Area -- 3.8ft²




Ground Activity Area -- 10.7 ft²

Capacity (suggested only)

2-3 Chickens/Small Poultry

1-2 Chickens/Small Poultry

1-2 Chickens/Small Poultry

3-4 Chickens/Small Poultry

2-3 Chickens/Small Poultry

Quantity of Nesting Box

1

/

1

1
1
Product Net Weight

58lbs

49lbs

52lbs

62.3lbs

72lbs

Overall Dimension

65.2"L x 26.4"W x 47.6"H

57"L x 21"Wx33"H

69"L x 26"W x39.4"H

69.8 "L x 42"W x54.6"H

78.4"L x 27.6"Wx40.6"H
AIR67

AIR59

AIR69

 AIR61

AIR028
Inner Space (Total)

Sleeping Area:9.15ft²

Nesting Box:2.73 ft² for one nesting box

Sleeping Area:8.82 ft²

Nesting Box:2.66 ft² for one nesting box

9.95ft²
Upper Sleeping Area--5.99 ft²
Ground Activity Area--12.48 ft²
Playing Area-- 11.53 ft²
Sleeping Area -- 5.93 ft²
Capacity (suggested only)
2-4 

Chickens/Small Poultry

2-4 Chickens/Small Poultry

2-4 Chickens/Small Poultry

2-3 Chickens/Small Poultry

2-3 

Chickens/Small Poultry

Quantity of Nesting Box

2

2
/
1
/
Product Net Weight
107.6lbs

100lbs

69.73lbs

84.5lbs

27.5lbs
Overall Dimension
67.3" L x 40" W x 49.75" H
63.7" (L) x 36.8" (W) x 40.6"(H)
64.6"L x 25.4"W x 28.1"H
80.6"L x 22.6"W x42.5"H
87.8"L x 20.5"W x 33.7"H