5 Best Chicken Coops---The Ultimate Buying Guide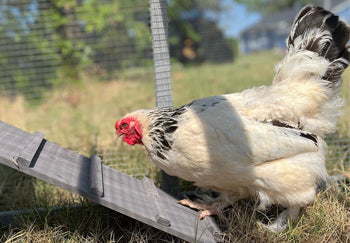 Introduction
Can you raise chickens without owning a farm? Of course, you only need a chicken coop that suits your chicken friends. If you are a chicken breeder or are considering raising some chickens, a durable chicken house is essential to protect your flock. So you need a chicken coop spacious enough to accommodate all your chickens. In addition to size, your chicken house should have a suitable nest for laying eggs and proper ventilation.

So, what is the best chicken coop? Here, I have collected 5 chicken coops with outstanding functions. Then I will introduce you to the precautions for buying a chicken cage.
5 Best Chicken Coops
Aivituvin Large Chicken Coop with Run       AIR46
Our first choice is the large chicken coop which can hold 10-15 chickens. With solid fir wood, galvanized anti-predation welding wire and sturdy high-quality hardware, it can prevent predators. This wooden chicken coop has 4 inside and 3 in the outside yard roosts. It provides plenty of roosting space for your chickens. Very suitable for 10-15 normal size hens and any other small poultry.

This large chicken coop with run has a non-slip ramp. When your chickens need fresh air, they can walk down the ramp. The small wooden block above has a nice touch and can help the chicken find a foothold when entering the garden area down the ramp. Vents can reduce water loss and keep the chicken coop dry.

Can accommodate 10-15 Chickens.(Click for details)

PROS:
Extra large size,big enough for 10-15 chickens but it depends on the size of your chickens.
6 nesting boxes.
Spacious run for your chicken roosting and roaming.
Diagonal wood supports on all panels to reinforce the construction and last longer service time.
Each nesting box extends below to support and prevent the nesting box from sagging.

CONS:
No wheels so it cannot move easily.
Aivituvin Large Hen House with Run      AIR45
The large hen house with run has 4 nests and 2 perches, which can hold up to 4-6 chickens. Of course, it depends on the size of your chicken. The sleeping area of wooden chicken coop is covered with weatherproof asphalt to prevent water from flowing into the nesting box and house. And pull out the metal tray for easy cleaning.

In addition, two separate egg boxes can keep the eggs clean, allowing you to take them out cleanly. Two uniquely designed roosting bars provide plenty of sleeping space for your chickens. In general, this chicken coop is designed to be a comfortable house for your chickens.

And because of the rear window, air can enter and exit the chicken house. This will keep the chicken coop dry and prevent chickens from getting sick.

Can accommodate 4-6 Chickens.(Click for details)

PROS:
Suitable for 3-5 chickens or ducks.
Openable roof for easy cleaning.
Four big nesting boxes.
79" large run your chickens to roam around and be safe.

CONS:
Aivituvin Chicken Tractor | Chicken House      AIR27
If you are looking for a slightly smaller chicken tractor, you can consider this chicken coop with 2 high-quality wheels. Placing the chicken coop in different positions can make the chickens happier and the quality of the eggs better! This chicken house is made of high-quality fir wood and is durable. The steel rod of the sliding door locks the chickens and ducks safely in the house.

In addition, this chicken coop also has 5 large event spaces with open doors: it makes it easier for you to interact with your chicken and duck friends and clean the cabin.

It's more than that to surprise you! You can purchase 2 coops to expand the large space. Because it has a detachable sliding door design, it is convenient for different installations!

Can accommodate 2-4 Chickens. (Click for details)

PROS:
This coop is pretty good for someone starting out with just 3 or 4 chickens.
Two quality wheels for easily movable.
UV resistant Roof to Keep Your Pet Shaded from the Sun and Protected from the Rain.
Heavy duty galvanized wire mesh and predator-resistant spring latch keeps your flock secure.

CONS:
No lock on roof of chicken run.
Aivituvin Large Chicken House     AIR48
With an asphalt-covered roof, your pet can be shaded and protected from rain. Even if you are not at home, your chicken stays in a safe and reliable environment. It has a well-designed discharge box and is easy to install, suitable for most chicken farmers.

The chicken coop is an ideal home for 6-10 standard-sized hens, ducks and any other small poultry. It provides a spacious and protected space for your feather friends to walk around in and out of the chicken coop and enjoy a happy and healthy life.

Thanks to a full pull out mess metal pan, including open side doors and back doors, it is easy to clean and catch. Chic and rustic appearance is what we dream of.

Can accommodate 6-10 Chickens.(Click for details)

PROS:
Large chicken coop for 6-10 chickens.
4 nesting boxes.
Large and protected space to move around.
59" high for easily getting into the chicken coop.
The large access doors for easy cleaning and catching your chickens.

CONS:
No wheels for easily moving.
Aivituvin Extra Large Chicken And Duck Coop       AIR49
If you want to choose more high-end, I recommend this extra large chicken and duck coop. This big chicken coop has a stable structure. It is constructed of solid fir and is equipped with sturdy, high-quality hardware to prevent predators.

The off-ground egg box is divided into three parts, which can keep the eggs clean and open the lid to facilitate collection. Unique design perch will become a bright thing in front of your eyes. 2 inside and 2 in the outdoor yard round edge roosting bars give your chickens plenty of space to sleep on.

Can accommodate 8-10 Chickens(Click for details)

PROS:
Best coop for 3-5 chickens or ducks.
3 nesting box.
Big run offers your chickens plenty of room to roam in your backyard.

CONS:
No stand under the coop.
The roof cannot be opened.
Chicken Coops Buying Guide
After knowing a few of the best chicken coops, you may want to know how to choose the one that best suits your needs. A good chicken house provides a safe space for your chickens to sleep and lay eggs. Your chicken coop needs to have at least these functions.
Size
The space required to raise one chicken is different from that of three chickens. The size of the chicken cage should depend on the number of chickens you have. According to experience, each standard hen requires 2to 3 square feet of space. So take this into consideration when you buy.
Nesting Box
The setting of the laying nest provides a concealed and safe laying environment for the chickens. Although some chickens do not like to lay their eggs in special places, it is very necessary to provide them. Generally speaking, it is appropriate to provide a box for every three to four hens.

There is a fixed structure under the egg nest provided by Aivituvin, so there is no need to worry about the eggs breaking.
Ventilation
Provide adequate ventilation in the chicken coop to meet the oxygen demand of the chicken house.
Ventilation can play a role in regulating the temperature in the chicken house.
Ventilation can also discharge the dust and moisture of the chicken coop and prevent harmful gases from affecting the growth and development of chickens.
Security
The most important function of the chicken coop is to protect your chickens from predators while sleeping. A safe chicken house should be covered with heavy-duty galvanized wire mesh, and all latches are made of spring latches. If you live in a place with a lot of rain, a weather-resistant roof can prevent poultry, rabbits, ducks from being exposed to strong light and can run outdoors even on rainy days.
The Important Features of the Best Chicken Coop
Stable structure:

All panels of Aivituvin's chicken house are supported by diagonal wood. This design can strengthen the structure and extend the service life.

Anti-Slip Ramp:

Let the chicken grab something when climbing up the ramp. The grip on the ramp can help the chicken find a foothold when going down the ramp into the garden area.

Easy to clean:

There are not only complete pull-out metal pan, but also open nesting lids and large back doors. This design is easy to clean up and capture.

Waterproof design:

The sloped roofs of the sleeping areas and nest boxes are all covered with weatherproof asphalt. Prevent water from flowing into the nest box and the house.

Big egg box:

Keep the eggs clean and open the lid for easy collection.

Ventilation:

Ventilation is a very important part of a chicken coop design. A sliding window keeps chill out when we can close and summertime will leave them open maximum ventilation,keeps the smell down, keeps the chicken healthy and happy.
Last Word
There are many other benefits that come with having your backyard flock. You can check our blog about the benefit of raising chickens if you are interested.

Whether on the farm or in the backyard, we aim to provide your chicken flock with a chicken house with the best features. Giving your chicken friends enough space in the chicken coop is essential for raising healthy and happy chickens. They are carefully crafted so that you can take care of your friends with ease. By now, you should have a good idea of the best chicken house. If you have any questions, please consult us!
---